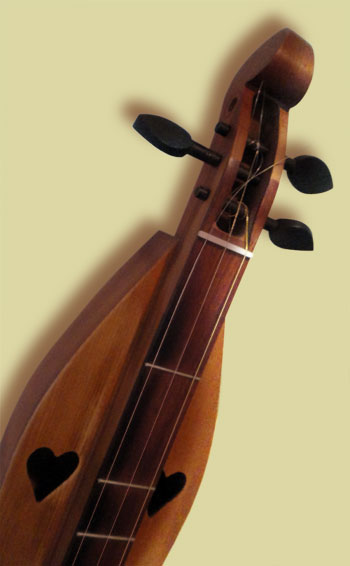 Dulcimer by Tad Wright Woodworks.
There are many excellent dulcimer makers in operation today. All have strengths and weaknesses according to one's individual tastes and requirements.
Now days, in public, I mostly play Modern Mountain Dulcimers. I play the dulcimer in the traditional style where the melody is played on one string, leaving the other strings to drone. My preference is for three equal distance strings. The hourglass shape with a resonator back from Modern Mountain Dulcimers has the volume needed to play with other instruments. It has a sweet well balanced sound that allows the melody to ring clear.
Sometimes at home, sitting alone or with my wife Jean and/or various cats, dogs and other creachters, I enjoy the intimate sound of the North Carolina style dulcimers made by Tad Wright Woodworks. Tad no longer builds dulcimers. However, every so often a dulcimer built by people like Tad, Ed Pressnell, Edsil Martin and others come available. The simplicity of design and excellent craftsmanship of these older style instruments appeals to the taste of certain individuals. They are Generally more quite and less sophisticated than many dulcimers being built today. Generally, a dulcimer should be chosen according to ones personal tastes and requirements.
---
Due to the large number of requests, a limited selection of the Fine Art of Dulcimer images are available.
Click here for selection.
The Fine Art of Dulcimer
"The Fine Art of Dulcimer" series is designed to showcase mostly current dulcimer builders with some of the classiest models in history. An early, well intentioned, although misinformed history of the mountain dulcimer, stated that the soldiers on their way to the crusades may have enjoyed listening to the lap dulcimer. It got me thinking...
Mona Lisa
by Leonardo Da Vinci

Dulcimer by Tad Wright
Seated Woman Reading
by Hosoda Eishi
aka: Who the heck wrote this Tab anyway?

Dulcimer by Ron Ewing
Ron Ewing Dulcimers
The Son of Man
by Rene Maqritte

Dulcimer by Bill Taylor
Piano Man
by Justin Bua





Prudence, circa 1470
by Piero Del Polaolo

Galax Style Dulcimer by Ben Seymour
Galax Dulcimer

Portrait of Jeanne De Tourbay
by Eugene Emmanuel Amaury-Duval

Dulcimer by Terry McCafferty
U.S. Grant
by Alonzo Chappel

Dulcimer by Jeremy Seeger
Jeremy Seeger
Portrait of William Wilberforce (1759-1833)
by Thomas Lawrence

Dulcimer by Gary Gallier
Dulcimer Central
Velazquez
by Fernando Botero

Dulcimer by Bonnie Carol
Empress Jossephine
(1763-1814) at Malmaison, circa 1801
by Francois Gerard
with Virginia style dulcimer
Davey Crockett
by Walter Baumhofer

Dulcimer by Keith Young
(passed February 9, 2012)
Appalachian Dulcimers
Portrait of Dora Maar
by Pablo Picasso

Bowed Dulcimer by Ken Bloom
Ken Bloom
John Wayne
by Bob Willoughby

Dulcimer by Jethro Amburgey
The Peaceful Kingdom of the Branch
by Edward Hicks

Dulcimer by Homer Ledford
(passed December 11, 2006)
Woman with Red Hair
by Amedeo Modigliani

and vintage Dulcimer
King's Sadness
by Henri Matisse